Photos of Elvis Presley drinking capture moments from different phases of his life, offering glimpses into his private moments and social interactions. These images reveal a human side of the legendary performer, showcasing instances where he enjoyed drinks with friends, colleagues, and family. Whether holding a glass during a casual gathering or raising a toast on special occasions, these photos provide a candid perspective on Elvis's experiences. It's important to remember that while these images offer a slice of his life, they don't define his entire story.
Elvis drinking water after his bowl of chili, lunch counter in the Jefferson Hotel
Elvis…love what he says when he explains what gatorade is. 1970s: Elvis Presley drinks Gatorade on stage, taking a sip between songs and saying, "This is Gatorade — in case you want to aid your gator."
Elvis – 1969 Press Conference in Las Vegas.
Alfred Wertheimer Pepsi in Hand: Elvis Presley sitting on the porch of his home at 1034 Audobon Drive, Memphis, Tennessee, July 1956
This is [Elvis at home] with his cousin, Billy Smith (left), who's still alive, and Bobby Smith (right), who committed suicide
Elvis in march 1958 with friends.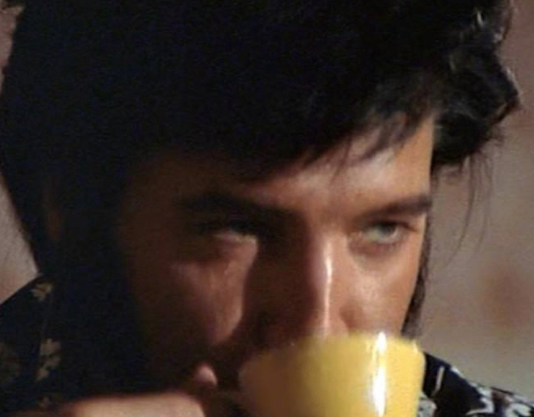 Cup of Coffee
elvis drinking coffee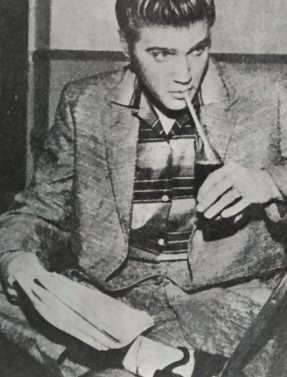 Elvis Drinks Pepsi
Detroit
Elvis and Fans Drinks Coke and Pepsi
Elvis drinking Wine
Elvis Loves to Drink Coffee
Elvis photographed by fan Sandi Miller drinking Mountain Valley spring water, his preferred choice of bottled water, outside his home
Elvis Drinks Beer
October 31, 1957 Elvis at a Halloween party in Los Angeles
Elvis and his 'Memphis Kid' coffee cup on the set on "Loving You
"King ELVIS – Stage (B&W)"
Elvis Presley Drinking Milk
Drinking Coffee
Elvis drinking coffee while on duty
Elvis drank Pepsi by the truckload I'm told though he's been pictured several times in the early days with Cokes. Like anyone, he had his preferences but at times likely drank what was available.
Elvis Presley with Priscilla Presley
Elvis Didn't like this drink
Elvis in the mug in the scene from "Double Trouble" with Kim Howe (killed by Bruce Jenner) as he sings "I Love Only One Girl." Richard Davis stands on the right.
Elvis Presley Lion Ring – Gold Plated -Large. The Gold Plated Lion's Head ring is enhanced by Round-Cut Ruby Eyes and an Emerald in his mouth
Elvis Presley wearing many colorful rings enjoys a drink
Pop Culture: Elvis, Marilyn and Icons 'Kissed By' the Coke Bottle
Elvis in "Stay Away Joe" (a 1968 Western-comedy film, with musical interludes, set in modern times. Elvis stars as Native American rodeo rider, Joe Lightcloud.
Going home
The Cool of Tea: The days when things were done properly. Elvis Presley in